4 Bras To Wear With White Outfits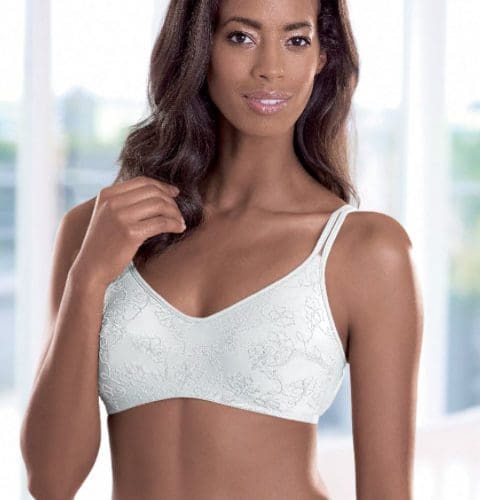 When it comes to wearing a white or see through outfit, you need to choose luxury lingerie that is discreet. Rather than choosing a colourful or bold piece of underwear, opt for something that will go unnoticed whilst complementing the outfit you are wearing. Luckily, we have a number of bras that are ideal for white outfits. Whether you are looking for a simple and plain item or something a little more luxurious, you will find the ideal bra at Bare Necessities.
Discreet Luxury Lingerie For White Outfits 
Full Cup Elise Bra by Louisa Bracq – As well as being perfectly detailed and beautifully feminine, this bra is ideal for wearing with white or see through outfits. You don't necessarily have to choose a plain bra just because you want it to be discreet, as patterned bras can also work.
Preformed Plunge Avero Bra by Marie Jo – If you are looking for a simple and understated white bra, this is a great option. Though it is simple and ideal for wearing under white outfits, it's also feminine and classic thanks to the delicate trim. This is a bra you can rely on whenever you choose to wear white.
Extreme Control Sports Bra by Anita – If you are someone who enjoys an active lifestyle, you will need a bra that can support you during workouts and running from A to B. Not only does this bra offer support and comfort, but it's straightforward enough to be wearable under white clothing. This bra is sure to become a 'go to' option when you need control during a workout.
Full Cup Mandala Bra by Lejaby – It's comfortable, it's supportive and it's elegant. It's easy to see why this bra by Lejaby is a popular choice. As well as being discreet under white clothing, this bra feels luxurious and will make you feel your very best from the moment you put it on.
As you can see, there is no shortage of choice when you need a bra to wear with white outfits. At Bare Necessities, we ensure our luxury lingerie range is varied and suitable for everyone. Regardless of the bra you choose, you won't be disappointed. Our bras are luxurious, beautiful and there is something for every woman. To find out more about our luxury lingerie or for information about anything in our collection, get in touch with the Bare Necessities team.