Four Luxury Valentines Lingerie Sets for a Romantic Evening
Valentine's Day is fast approaching and if there was ever an excuse to purchase a new luxury lingerie set, this is it.
A luxury Valentine's lingerie set is the ideal way to feel comfortable and confident whilst embracing your body, whether you're enjoying it as a couple or for yourself. Whatever your Valentine's Day plans are, go into it looking and feeling beautiful. 
Our Top Four Valentines Lingerie Sets
At Bare Necessities we have found our four favourite luxury lingerie sets that are perfect for this extra special occasion.
1. Lise Charmel Splendeur Soie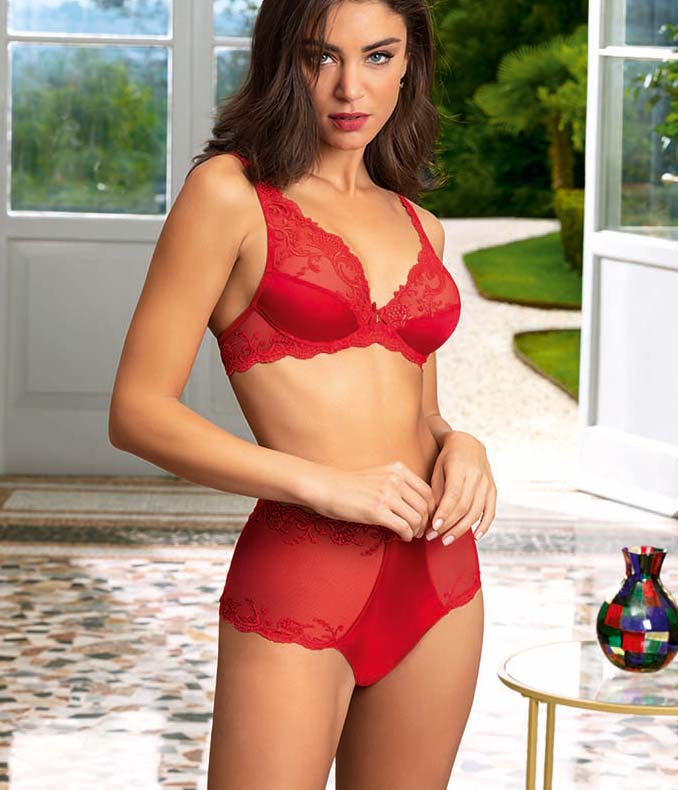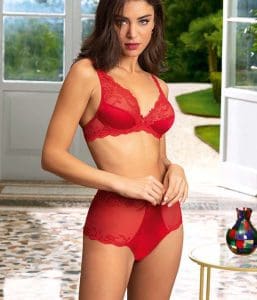 A classic Valentine's red, the Lise Charmel Splendeur Soie is the definition of elegance in women's lingerie. This Lise Charmel set in particular has sophistication and finesse in abundance.
The Splendeur Soie lingerie collection has been designed using the finest lace in rich red for that classic, sexy Valentine's lingerie look. Featuring sumptuously soft satin and bow detailings with Swarovski rhinestones, this is a set to impress. 
Mix and match this set as you desire with your choice of a Glam Push Up Bra or Full Cup Bra paired with your choice of Briefs. Create the ultimate seduction with the addition of suspenders or a chemise and dressing gown to complete this sultry look.
2. Marie Jo Vita Collection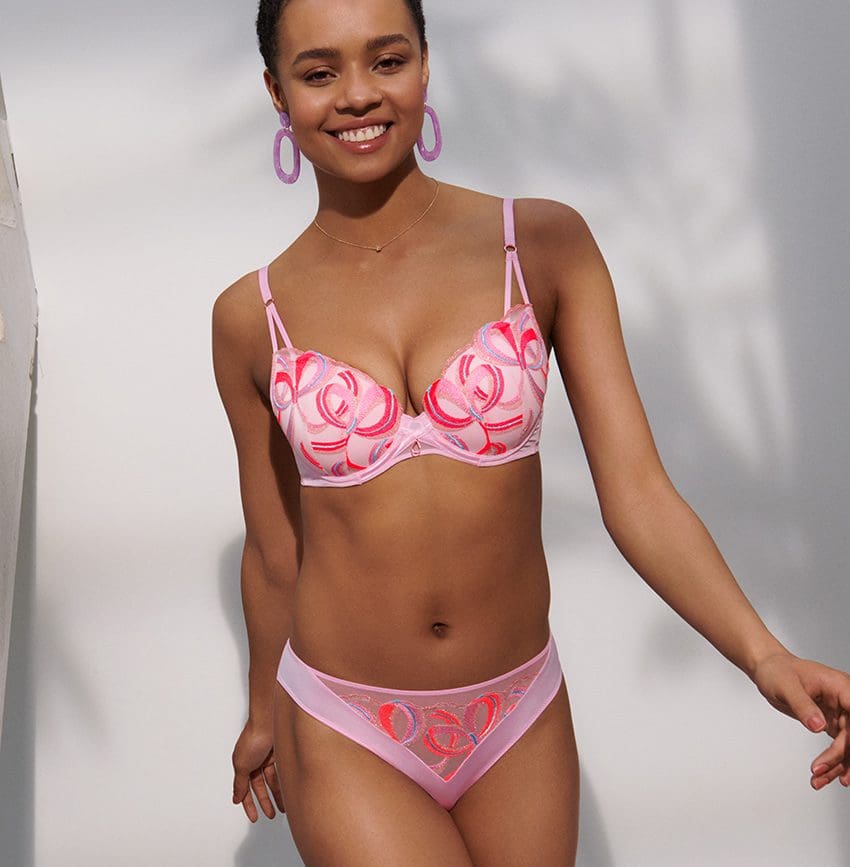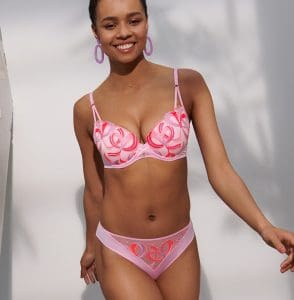 Spread the love with the heart-shaped Vita Collection from Marie Jo. Romanticism at its finest, the pretty pink material is covered in stunning, colourful detailing that draws the eye. 
The Padded Heart-Shaped Bra is the ideal bra for a Valentine's Day Date, with delicate soft straps that will work perfectly under any outfit. Gilded threads add an extra touch of elegance and mystique to this already stunning bra.
Create your perfect Valentine's Day Lingerie Set by mixing and matching the Vita Bra with your choice of briefs for true comfort that still leaves you feeling stunning.
3. Prima Donna Aprodisia Twist Collection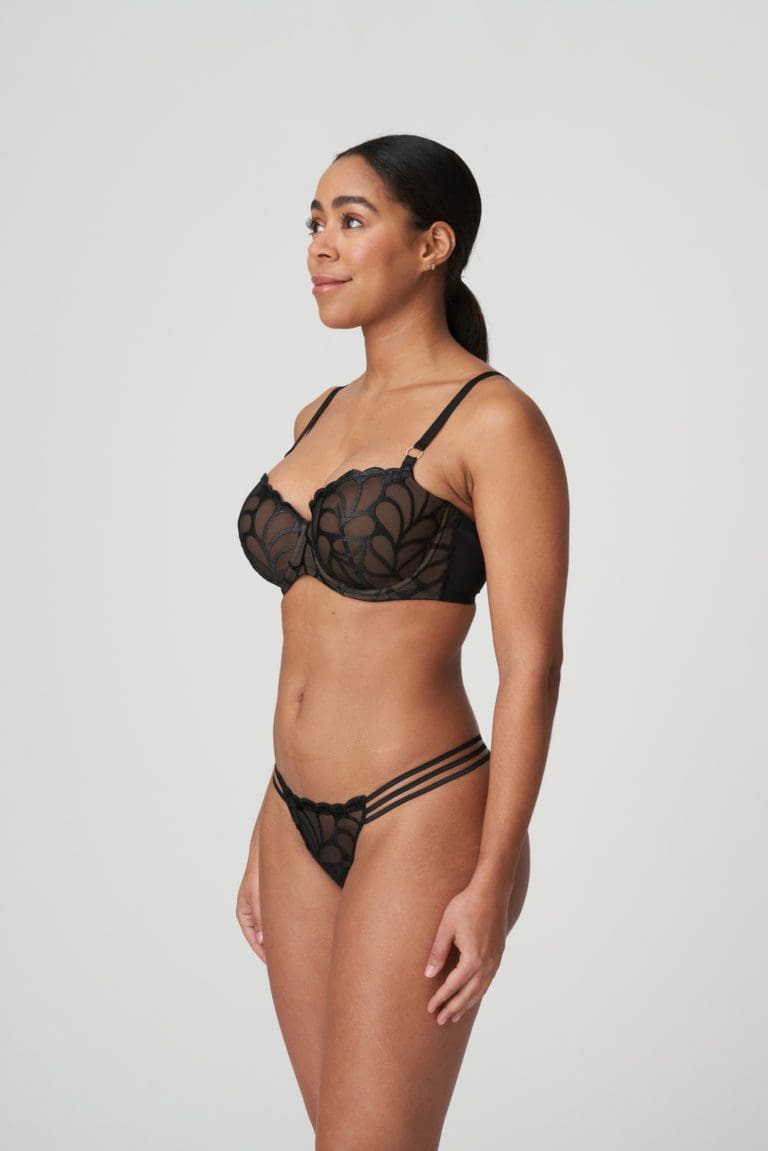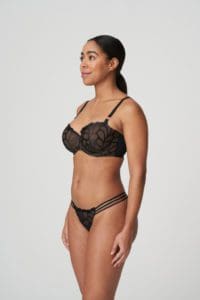 The Aprodisia Twist Collection from Prima Donna is the seductive twist to Valentine's Lingerie you need. The stylish laser-cut embroidery gives a sexy leather look that is supremely flattering and guaranteed to get noticed. 
Find your confidence with this stunning, black lingerie collection, a sensual addition to your Valentine's wardrobe. Choose from a gorgeous balconette bra or full cup bra and match with your choice of briefs for a finished look that is sure to turn heads this Valentine's.
4. Empreinte Louise Collection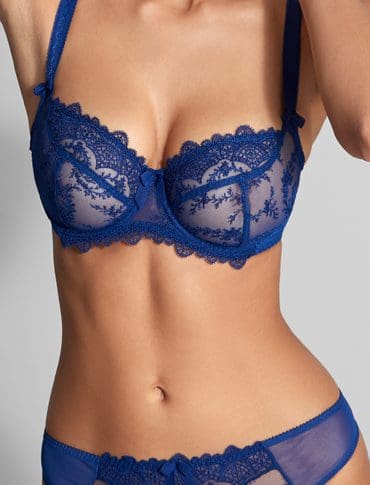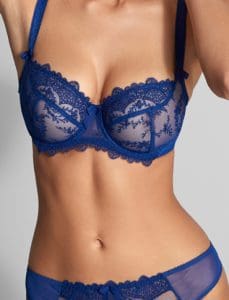 If pinks and reds aren't your colour, why not choose a stunning blue lingerie set this Valentine's? The Empreinte Louise range is available in a seductive royal blue that will stand out this romantic holiday. 
Romantic bows are ideal for Valentine's Day, making this beautiful lingerie set perfect for the occasion. Romantic and graceful, this collection is available in sizes ranging from B to G, making it a fantastic choice for those on the hunt for a stunning plus size valentines lingerie collection that leaves you feeling beautiful and confident.
Find your ideal mix by pairing a Balconette or Full Cup Bra from this collection with a matching set of briefs.
Discover your perfect Valentine's Lingerie Collection with Bare Necessities
At Bare Necessities our expertly selected range includes luxurious lingerie designs that will leave you feeling confident this Valentine's Day. 
Not sure where to begin to look for your next Valentine's Day Lingerie Set? Get in touch with our friendly team today for more information about our collections, or check out our bra fitting service to ensure the ultimate comfort when you pick your set.