New Year, New Bra? Here's What to Expect at a Bra Fitting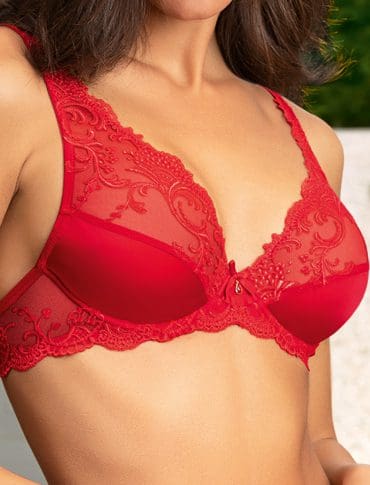 Finding a bra that is both comfortable and supportive can be a struggle, which is why attending a bra fitting is recommended if you are not sure of your exact size. Properly fitting bras can help to reduce any future issues with your breasts and back. 
What happens in a bra fitting?
If you have never attended a fitting before it can be daunting not knowing what to expect, which is why at Bare Necessities we want to let you know what to expect from our bra fitting service, to take the worry out of your appointment.
1. A Private Appointment
At a Bare Necessities bra fitting you will be assigned a personal bra fitter who has been trained to properly fit bras to each individual. You will be shown to a private fitting room and asked some questions about your current bra, how you feel it fits, what size it is and what your preferences might be for a new bra.
2. Measuring your Breasts
Your bra fitter will next start measuring your breasts. Sometimes you may be asked to remove your top so the fitter can find accurate measurements, but if you are uncomfortable with this and would prefer to be measured over your clothing then our professional fitters will take this into consideration to ensure you are as comfortable as possible during your appointment.
3. Trying on different bras
Once your measurements have been taken your fitter will find you a selection of our bras to try on, checking the fit to ensure they are comfortable and supportive.
You may find that you are given a few different sizes to try on, this is so your fitter can ensure they provide you with the best fit. If you are uncomfortable with your fitter seeing you in just a bra you are welcome to try the bras on under your clothes, however it is easier for your fitter to check the fit without.
What will be checked during the bra fitting
During your fitting your bra fitter will check how your current bra fits, these are things you can also check yourself at home to see if you need to go to a bra fitting.
1. Does the underwire sit away from your chest?
An underwired bra should sit flat against your chest, if it is bowing away in any way it is likely that your bra doesn't fit correctly.
2. Do the cups of my bra fully cover my breasts?
If your bra cups are too big, or your breasts are spilling out of them in any way, it is the sign of an ill-fitting bra.
3. Are the straps sitting comfortably?
Your bra straps shouldn't be too tight, and you should be able to slip a finger between your shoulder and strap easily, without any discomfort.
To ensure your bra is fitted correctly the back strap of your bra should sit horizontally along your back. If you are wearing the wrong size your bra might arch up along your back.
Find Comfort and Support with a Bra Fitting from Bare Necessities
Start the new year right with a bra fitting service!
Contact our friendly Uttoxeter team today. Find your size and explore our selection of high-quality bras and lingerie for a confident, supportive new look.