What is a Balconette Bra and Why You Need One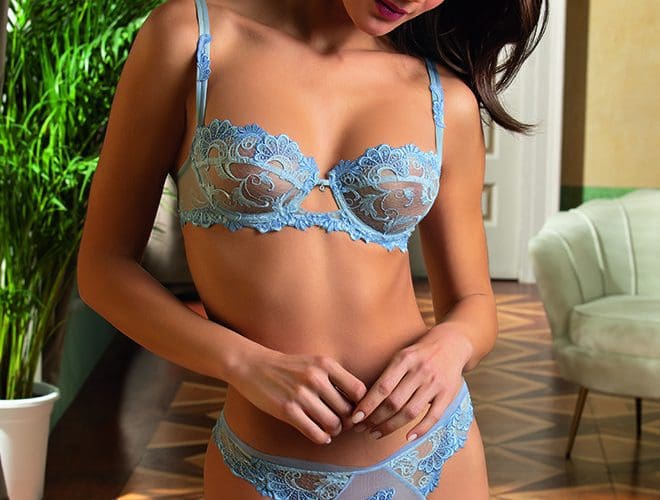 What Is A Balconette Bra And Why You Need One
Choosing the perfect lingerie can be overwhelming. With so many styles to choose from, from push-ups to bralettes, the choices are endless. But how do you choose?
A balconette bra is a timeless piece of lingerie that can elevate your style and boost your confidence. Here at Bare Necessities, we're excited to introduce you to the world of balconette bras and explain why you need one in your collection.
What is a Balconette Bra?
A balconette bra provides excellent support and a natural lift with a touch of allure. Its unique design features a low-cut cup with wide-set straps, perfect for a square neckline. A balconette bra provides your bust with a subtle lift that enhances your natural shape, creating a rounded look with less coverage, an ideal design to pair with various outfits and necklines that demand a delicate yet supportive touch.
Balconette Bras for Different Necklines
A balconette bra is the perfect choice for complementing your outfit choices. Whether you're dressing up for a special occasion or aiming for an everyday look, a balconette bra can be your secret weapon.
1. Balconette Bras for V-Necklines
Balconette bras work perfectly with V-neck tops and dresses. The lower-cut cups of a balconette align beautifully with a V-neckline, offering a natural lift that accentuates your curves. It's the perfect pairing for a romantic date night.
2. Square Neckline Support
Square necklines are everywhere right now, and a balconette bra is your go-to choice for a supportive bra that remains hidden by this neckline. The bra's unique shape ensures your décolletage is tastefully displayed, enhancing the chic style of your outfit while providing optimal comfort.
3. Pair with Off the Shoulder Styles
Flaunt your shoulders and collarbones with confidence with the help of a balconette bra. The wide-set straps won't dig into your skin, providing comfort whilst slightly teasing your stunning new lingerie.
Balconette Bras from Bare Necessities
At Bare Necessities our goal is to provide you with comfort and style, which is why we have handpicked some of our beautiful balconette bras so you can find your perfect fit.
Lise Charmel Amour Nymphea Balconette Bra
Available in cup sizes C to E, the Amour Nymphea Balconette boasts a stunning floral design in elegant jade. The delicate lace detailing adds a touch of sophistication, making it a must-have for your lingerie collection, whilst the translucent look adds a touch of temptation, perfect for date night.
Lise Charmel Dressing Floral Balconette
For those looking for a unique twist on the traditional balconette design, the half-cup design of the Dressing Floral Balconette style offers a flirty look. The intricate embroidery adds an air of playfulness to your ensemble whilst the pale blue design brings french chic to your wardrobe.
Marie Jo Chen Longline Balconette Bra
Elevate your style with the Marie Jo Chen Longline Balconette Bra. It provides ample support while its extended band adds an extra touch of elegance, perfect for when you want to make a statement.
Show Off Your Fabulous Figure with Balconette Bras from Bare Necessities
Embrace your curves, enhance your outfits, and step into a world of sophistication with balconette bras from Bare Necessities.
Explore our full range of balconette bras today, or find your ideal fit with our bra fitting service and feel fabulous in your choice.