Everything You Need To Know Before Buying A Halter Neck Bra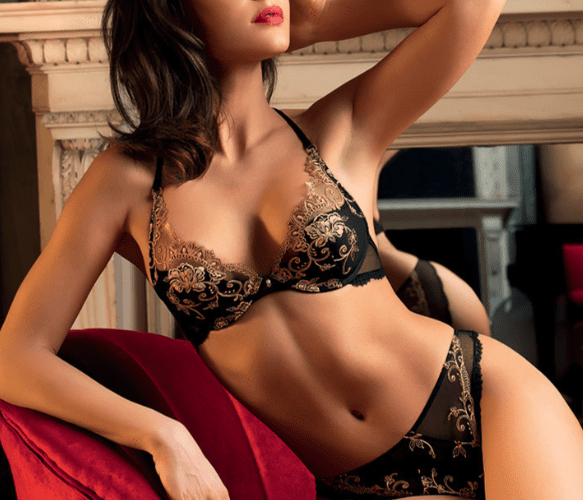 Bras are an essential part of any woman's wardrobe, but finding the right bra for you can be difficult with the wide variety of styles out there to choose from. At Bare Necessities we have created our guide for everything you need to know before buying a halter neck bra, similar to our previous guide on everything you need to know about plunge bras. 
The Benefits of Halter Neck Bras
A flattering and comfortable choice, the halter neck bra is a staple wardrobe essential.
Some items of clothing can be frustrating when the neckline shows off unflattering bra straps that you would prefer remain hidden. Halter Neck bras have connecting straps that loop around the back of your neck, providing a comfortable, supportive bra that is the ideal match for plunging necklines, halter neck tops and dresses or other halter neck outfits.
Leaving your back and shoulders exposed, halter neck bras are the ideal addition to your summer wardrobe. 
Designed to be more supportive than a strapless bra, the halterneck bra gives a moderate level of support during your day-to-day activities. This makes the halterneck bra the perfect choice for occasions such as short walks, shopping, coffee with your friends or other small errands!
Discover Comfort with a Halter Neck Bra
Halter neck bras are an extremely comfortable fit for all women – especially for those who may find discomfort with regular bras rubbing their shoulders. Having only one strap that connects at the base of the neck means less friction and a comfortable amount of support for your breasts. 
Most halter neck bras continue to sport an adjustable strap for added comfort during wear, so you can avoid any rubbing on the back of your neck.
A large variety of luxury bras available at Bare Necessities also have adjustable straps, which means that your favourite bra can be styled in different ways. Halter neck, crossed over at the back or as a classic bra, the options for adjustable bras are endless! What more could you ask for?
The Disadvantages of a Halter Neck Bra 
Halter neck bras are a great choice for those looking for a supportive bra that takes the weight off of their shoulders. However, halter neck bras can sometimes lead to tension – especially for those with bigger breasts. 
Some women prefer support to be held in straps over their shoulders and back depending on their body type. That's why a large variety of Bare Necessities luxury halter neck bras have adjustable straps, to enable women to wear their bras however suits them best!
For women with a larger breast size, the halterneck bra can sometimes lack the desired level of support. Although perfect for small errands and short amounts of time, a more supportive bra may be desired for long walks or high-impact activities. 
If the halterneck bra style doesn't work for you, take a look at the Bare Necessities Full Cup Bras for maximum support!
Why Choose a Halter Neck Bra?
Halter Neck Bras are a common bra style that fits perfectly with any halter neck or short plunge style clothing you may love to wear.
Some items of clothing have a different cut or style that makes wearing regular t-shirt bras difficult, which is why plunge bras are a great choice.
When choosing the right underwear to compliment your outfit sometimes it can seem that strapless bras are an easy choice to avoid any unwanted bra strap sightings. Whilst this may be a brilliant short-term solution, strapless bras don't provide as much support as its equally versatile sister style, the halter neck bra. 
Halter Neck Bras usually come with adjustable straps for easy alterations to suit each outfit, whilst remaining a supportive piece of underwear that brings comfort to everyday wear.
Discover Halterneck Swimwear to help avoid the dreaded shoulder tan lines whilst providing support whilst you're enjoying the beach or swimming laps in the pool.
Our Favourite Halter Neck Bras from the Collection
At Bare Necessities, we stock a variety of bras for every style.
Tom L'Aventure Preformed Plunge Bra
The Tom L'Aventure Preformed Plunge Bra is a Heart shaped, underwired plunge halter neck bra that provides comfort and support. Supersoft fabric adds an extra level of comfort, whilst the adjustable straps have been designed to remind the wearer of a beautiful string of pearls.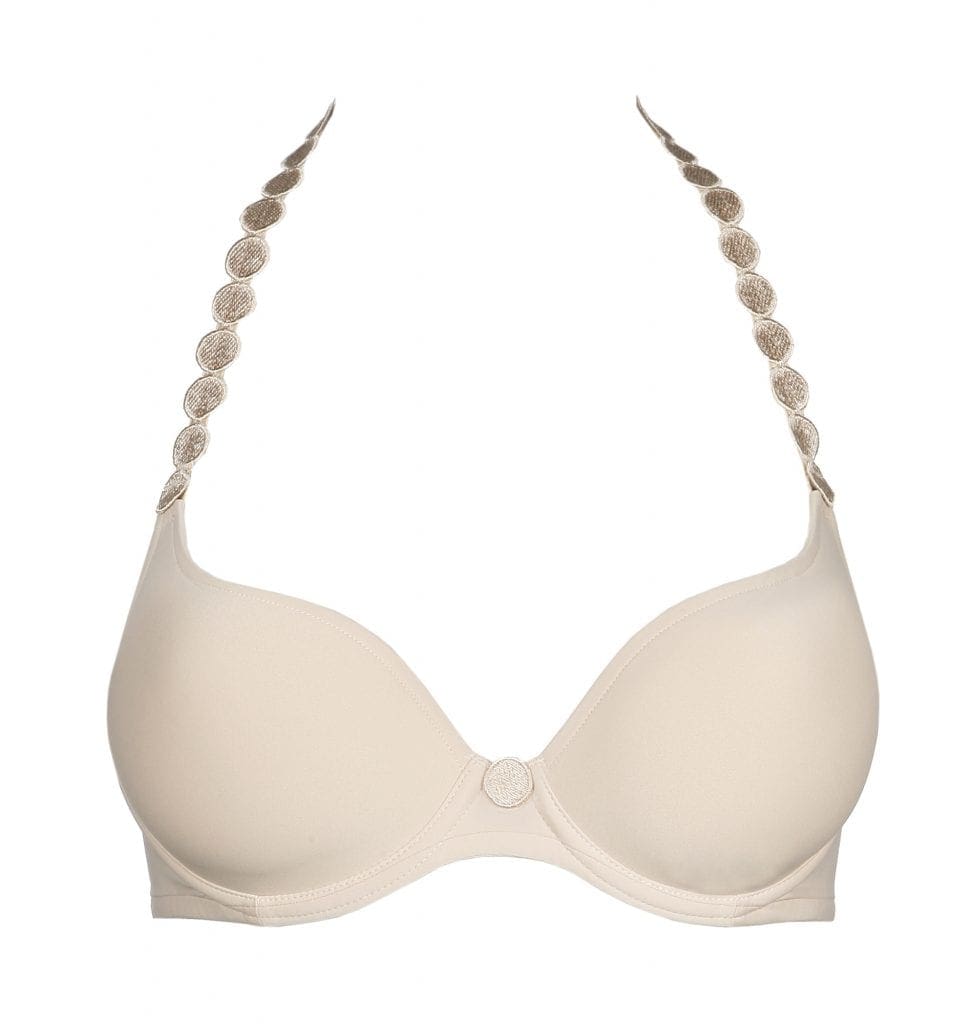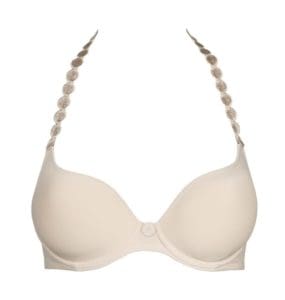 Lise Charmel Deese en Glam Triangle Bra
The Lise Charmel Deese En Glam Triangle Bra sports a classic halter neck style in rich black and gold lace for a sultry, elegant look that remains comfortable to wear thanks to the use of super-soft lace.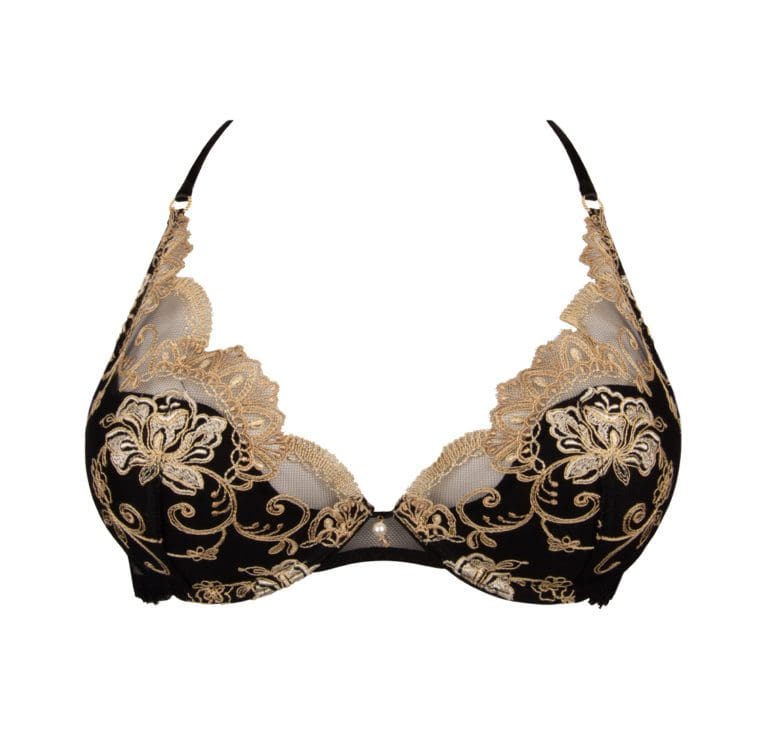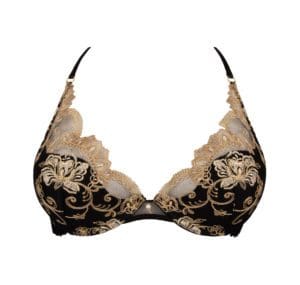 Marie Jo Avero Preformed Balconette Bra
The Marie Jo Preformed Balconette Bra is ideal for those with cup sizes B to F, providing comfort and style. Available in a variety of colours and patterns, the Balconette Bra comes with fully adjustable straps, allowing you to wear it in a variety of styles to match your outfit.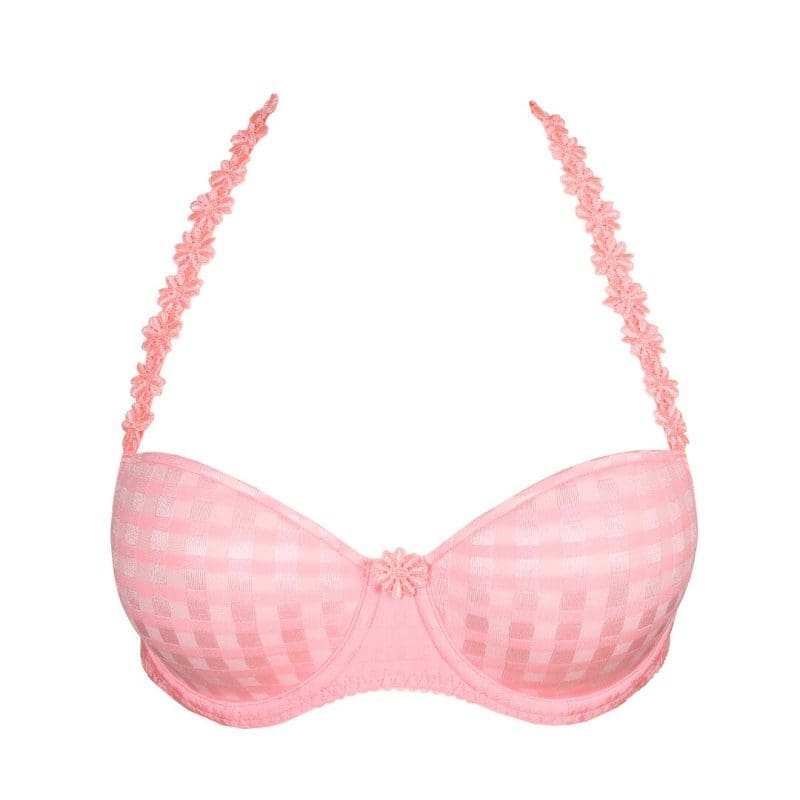 Discover Luxury Halter Neck Bras at Bare Necessities
At Bare Necessities our range of versatile, luxury halter neck bras are the ideal bra to ensure a seamless look every time. Explore our selection of halter neck bras today to discover your perfect fit, leaving you feeling confident no matter what you wear.
Get in touch with our friendly team today for more information about our collection of luxury lingerie, or check out our size guide to ensure you find your perfect fit.