The Perfect Plunge Bras for any Occasion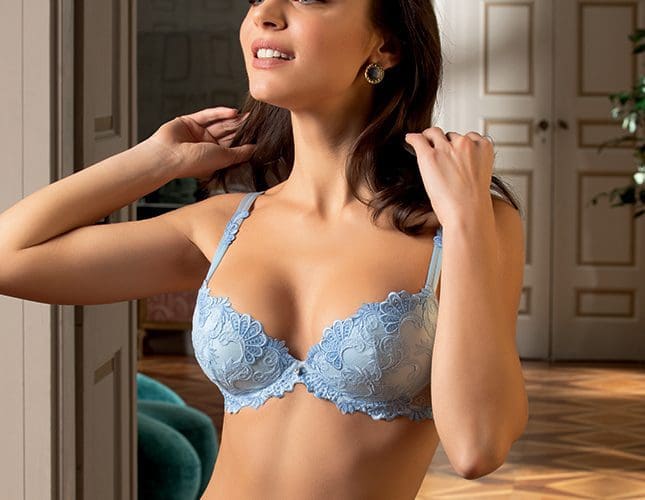 Confidence is key in fashion and, when it comes to lingerie, finding the right bra can make all the difference in how you feel and wear your outfit.
One style that every woman should have in her collection is the plunge bra. As one of our most popular designs, the plunge bra offers more cleavage, without compromising on support. With a unique design that provides exceptional comfort and ensures a flattering shape on the wearer, the plunge bra is an essential piece for various occasions – from formal attire to evening wear. 
Learn more about the versatility that a plunge bra can deliver, and how it can elevate your wardrobe today:
Why Choose a Plunge Bra?
A plunge bra is a popular undergarment that features a deep neckline, creating a V-shaped cleavage. This design is ideal for outfits with lower necklines and perfect for pairing with statement fashion choices including plunge dresses. 
To learn about the basic essentials of this luxury lingerie piece, read our essential guide to plunge bras. The benefits of a plunge bra design include:
Versatility in design: plunge bras are incredibly versatile. They can be seamlessly incorporated into both casual and formal outfits, making them a must-have for any occasion.
Discreet lingerie no matter your outfit: deep plunge bras are perfect for a low-cut dress or top. Rock your lingerie confidently, without worrying that you'll get lines showing in your outfit.
Offering enhanced support: despite the low neckline, plunge bras are engineered to provide excellent support, ensuring you feel comfortable and confident throughout the day or evening.
More cleavage without compromise: with less coverage but unrivalled support, plunge bras allow you to be confident in showing more cleavage and feeling your best.
Giving a natural lift: the design of a plunge bra lifts and centres your breasts, creating a natural, flattering silhouette. This is especially important when wearing dresses that emphasise the bust.
Enhancing cleavage: with its lifting properties, plunge bras are great for those looking to enhance and accentuate their cleavage! 
Finding the Perfect Plunge Bra for Your Occasion 
The versatility of a plunge bra makes it perfect for every occasion. Formal attire, daytime casual and evening luxury are all opportunities to embrace the unique benefits of this essential lingerie piece. 
Everyday Elegance:
For your everyday outfits, opt for a plunge bra that offers a perfect balance of comfort and style. The Marie Jo Noorah Padded Heart Shaped Bra provides a seamless look under your favourite tops and dresses, ensuring you feel both supported and confident throughout the day.
For a casual yet stylish look, pair the Marie Jo Avero Push Up Bra with a flowy blouse and your favourite pair of jeans. The deep neckline of the bra will complement the V-neck of your top, creating a polished and put-together ensemble.
Night Out Glamour:
When you're dressing up for a night out on the town, a deep plunge bra is your secret weapon. Our Lise Charmel Splendeur Soie Padded Plunge Bra not only offers exceptional support but also features luxurious lace detailing, adding a touch of elegance to your ensemble.
If you're looking to elevate your look for a cocktail party, then reach for the Lise Charmel Splendeur Soie Glam Push Up Bra. Combine it with a body-hugging dress and statement accessories for an unforgettable look that exudes confidence and sophistication.
Special Occasions:
For those special moments and once-in-a-lifetime events that call for a little extra flair, the Lise Charmel Secrete Emeraude Collection Padded Plunge Bra is a perfect choice. With its exquisite craftsmanship and intricate lacework, this bra is designed to make you feel extraordinary and leave a lasting impression on those unforgettable occasions.
Formal Attire
With their natural lifting properties, plunge bras give you complete confidence when worn. The Marie Jo Lingerie Tom L'Aventure Preformed Plunge Bra has a super soft fabric, meaning you can wear it all day long without worrying making it suitable for a variety of workplace environments. Vanishing under tops without leaving visible lines, the plunge bra can be worn discreetly in the office or any work environment.
Choosing the Ideal Plunge Bra Brand to Suit Your Style
At Bare Necessities, our most popular plunge bras are designed by two luxury lingerie specialists – Marie Jo and Lise Charmel.
Marie Jo lingerie seamlessly intertwines comfort with style. Their exquisite range boasts subtle feminine detailing and a captivating array of colours, catering to women who demand both support and fashion-forward design. Crafted from the finest materials, each of their collections is a testament to precision fit, ensuring a flattering silhouette that lasts all day.
Ideal for: everyday casual, formal attire
For those looking to step into a world of allure and sophistication, Lise Charmel's lingerie collections are filled with tantalising pieces and exquisite floral motifs. As a pinnacle of opulent French lingerie, Lise Charmel stands as one of the most coveted names in the lingerie industry. With an everlasting appeal, Lise Charmel effortlessly marries classic sophistication with the latest design trends. Luxurious fabrics like silk, satin, and lace are expertly woven into fashion lingerie in a palette of flattering colours and enchanting patterns – perfect for stand-out moments.
Ideal for: evening wear, cocktail glam, special occasions
Shop the Perfect Plunge Bra From Our Range Today
Incorporating a plunge bra into your lingerie collection can revolutionise your style when it comes to achieving the perfect look for any occasion. From everyday elegance to special occasions, Bare Necessities offers a range of luxurious plunge bras designed to enhance your natural beauty and boost your confidence. Elevate your lingerie collection today and experience the unmatched comfort and support that our plunge bras provide. Don't miss out on the opportunity to look and feel your best, no matter the occasion. Shop now!